Deep Blue Depth 30' to 110'+

A stunning wall dive starting at 30' and dropping of well beyond dive limits. This dramatic wall is so called because as you dive along it's full length to the other side is open sea with the bluest water imaginable, keeping an eye on this vast expanse of water is highly recommended as Turtles, Sharks and other large fish are often spotted swimming by. If that wasn't enough this dive also features a swim through cavern in which divers can surface!

Diamond Rock (wall) Depth 35' to 95'

A short but extremely pretty vertical coral wall. The dive starts at one end of the wall ending up at the other by way of a large crevice running top to bottom half way along the wall. Diving this crevice surrounded on three sides by coral really is a stunning experience. Marine life includes frequent sightings of the two regular puffer fish, which are guaranteed to amaze with their size.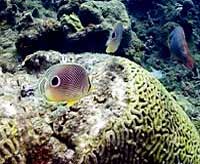 Dragon Bay Max. Depth 75'
An easy dive for all levels of experience, featuring deep sand channels cutting into volcanic rock with stunning black corals at around 40' – 50'. This dive leads into Molinaire Bay and at the intersection of both bays / reefs there are usually huge schools of fish, which are a great attraction with all divers as diving in the midst of these schools of fish is an unforgettable experience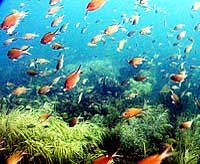 Flamingo Bay Depth 20' – 70'

A shallow reef bordering a wall descending to a maximum depth of 90'. One of South Grenada's most beautiful dives. The shallow reef is renowned for it's pillar coral formations and black sea horses, with Jacks, Chromis and Grunts in abundance. The wall can also be dived as a gentle drift dive leading in to Happy Hill / Dragon Bay.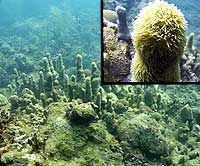 Frigate Rock Depth 40' to 90'
Another dive with stunning coral reef features, due to water clarity colours are much more evident than usual even at depth. Marine life to look out for includes large Barracuda with several up to six' long being seen regularly.
Grand Mal Max. Depth 90'M
A wall dive with a maximum depth of 90' usually dived to 75. This reef tends to be dived heading North to Molinaire bay. There are stunning coral stacks rising from the sandy bottom all along the reef wall, which make this and excellent fun D.P.V. dive, usually incorporating the Wreck of the Buccaneer.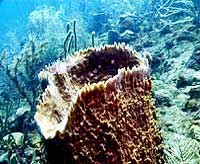 Bianca "C"